Rochester Pinball Collective
The Rochester Pinball Collective is a pinball arcade, open to the general public, located in East Rochester, NY. We feature around 45 different pinball machines dating from the 1950's to new releases. All games are set on unlimited free play.
$20 entry fee | $12 for ages 14 and under w/adult
All games on free play
Non-alcoholic drinks and snacks available for purchase
Annual membership: $595 - grants unlimited free entry
Book us for a Party
Get the whole arcade for your private event. See our info sheet for more details: RPC Party Packages
Game selection changes periodically. Check the list below for the the most up-to-date information.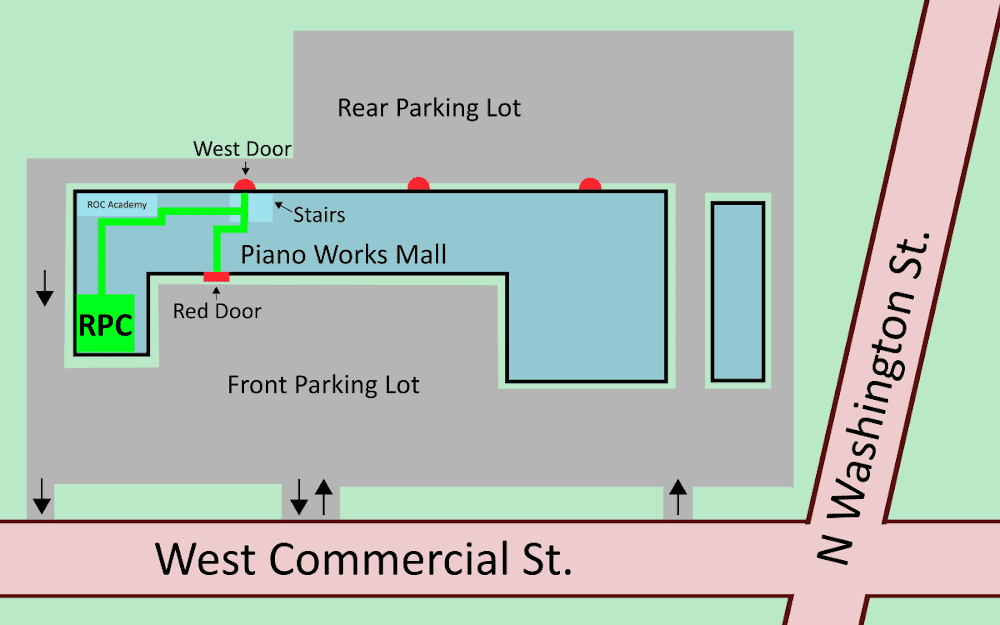 Directions
You'll find us on the second floor of the Piano Works building, above Ferrari Pizza.
-From the front parking lot: go in the red door to the left of the golf shop.
-From the rear parking lot: use the entrance labeled 349-3 on the west end of the lot.

Go inside and up the stairs or elevator. Take a right at the top and follow the hall to the end (past Roc Academy).
Operating Hours
Sat: 3pm - 11pm
Thu: 5pm - 10pm
Address
349 W. Commercial St.
Suite 2965
East Rochester, NY 14445
Game List
Now Featuring the Following
As of Jul 23th, 2022
Newly Added:
Black Knight 2000 - May 5, 2022
Bram Stoker's Dracula - May 3, 2022

Electromechanical (EM)
Far Out
Flipper Clown
High Hand
Mini Pool
OXO
Straight Shooter
Super Straight
Volley
Solid State
Black Hole
Cheetah
Diner
Flight 2000
Gamatron
Genie
Hoops
Hot Doggin'
Meteor
Rack 'em Up
Star Gazer
Stars
Surf 'n Safari
DMD / Modern
Alice Cooper's Nightmare Castle
Attack from Mars
Avengers Infinity Quest
Batman 66
Black Knight 2000
Black Rose
Bram Stoker's Dracula
Celts
Dialed In
Godzilla
Guardians of the Galaxy
Judge Dredd
Lethal Weapon 3
Lord of the Rings
Medieval Madness
Monopoly
Munsters
Rescue 911
Rush
Star Trek (2013)
Star Wars (2019)
Star Wars The Mandalorian
Stargate
Starship Troopers
Total Nuclear Annihilation
White Water
Services
Full Service Game Repair
Broken Pinball Machine?
We can fix it for you! Our 40 years of combined expertise covers a full suite of repair services for servicing both new and older games including EMs.
Please contact us to discuss the problem and let us provide a quote.


Interested in Selling or Buying a Game?
Let us know, we may be interested!
Electrical Repair
Diagnose and repair any problem with your system MPU, driver, matrix, sound or other circuit board.
General Servicing
Playfield cleaning, waxing, and rubber replacement.
Flipper Rebuilds
Restore the new feeling in every flip you make.
Playfield Swaps
Transplant everything onto a brand new playfield.